Visit our affiliates' page by clicking their logos, or using the links beside them.
Our affiliates will be advertised in our magazine issue which comes out every month, as well as here, on our website. In return, they will have our logo on their website as a form of promotion or advertisement.
Would you like to become our affiliate? If so, visit
this page.
---
PINNACLE Magazine

PINNACLE strives to make your day better, to make you feel better as a person, because you deserve to be. You are just as beautiful as you wish you were, however, you don't have to wish anymore.

WebsiteNewest Issue
Powered by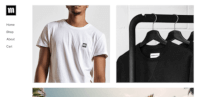 Create your own unique website with customizable templates.