Hello everybody, and happy late August! Yesterday we published our second issue of Volume 2, a back-to-school edition! If you haven't already, you can check it out by clicking the image below.

As mentioned in the issue, we will be starting to post brand new reviews right here on the blog! (Late reviews and

submitted reviews

will not be included on the blog.)

​For our first review, Luke Goldscar gives his opinion on the new DC movie, Suicide Squad.

Suicide Squad

When I first heard about this movie, I was pumped. I've read almost all the New 52 graphic novels. I loved those too. If you follow my profile, you'll see I have had issues with Harley Quinn. But that is unrelated to the movie. So let's start.

I walked into the movie so excited. I got to see it early and I was extremely excited. Despite the bad reviews. At that point, I loved Deadshot, Katana, Diablo, and Boomerang from the trailers and comics. But when it started, I was astounded by all the characters and backstory. And when The Flash came on for his cinematic debut, I jumped out of my seat. The story was packed. They did't necessarily have a lot of time for every character. So they focused a lot around Deadshot, Joker, and Harley Quinn. And a little bit of El Diablo.

The soundtrack was stunning. Especially the twenty one pilots bit. I loved that part. I think the editing was great. And I loved Jared Leto's Joker. Despite joking about the edgyness.

I've thought about the ending a lot. It felt anti-climatic. But I did Realize this, it's more of a Graphic Novel come to life than Batman Vs Superman. BvS feels like it's own story. While Suicide Squad feels like a graphic novel. And a Volume 1, at that. It feels incomplete. Like it needs a sequel. And there most likely will be.

All and all, I loved this movie. I might see it for the fourth time soon. That's how much I loved it. Overall, I'd give it an 8.5/10 for anyone who wants to see it. I loved it so much I personally thinks it's 10/10. But that's my bias as a fanboy.

I hope you enjoyed this. I will have more reviews soon along with DC Rebirth.

​

What did you think of Luke's article? Feel free to comment below your thoughts.

Remember to check in on this page after book, movie, or TV show releases to see if we've posted any reviews.

Thank you so much for reading! Goodbye!
Powered by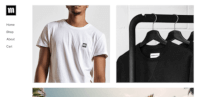 Create your own unique website with customizable templates.