Hey, fanatics!

It's Hannah here. Today, I'd like to welcome our newest contribution to the team: Vi! Congratulations! She's amazing, and we're all super excited to work with her.

Some of the fandoms she'll be writing for are Harry Potter, Maximum Ride, Once Upon a Time, and Welcome to Night Vale.

She also has two websites that you should definitely check out; one is a

fandom blog

and the other is a series called

Welcome To Highland City

.

As you may have guessed, her

Google+ profile

includes a lot of fandom posts. She also has aesthetics, writing pieces, and a lot more. Be sure to follow her there!

Another thing to mention: I'm super super sorry for skipping September

and

October. I promise we're doing the best we can, but all of us have been super busy with school lately.

To make up for it, we're going to be shaking things up a bit with this November issue. Stay tuned for our next release on the 25!

Once again, thank you to Vi for joining the team. We hope you enjoy being a part of Loquaciousness!

​Until next time.

-Hannah N.
Powered by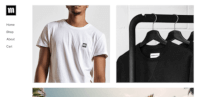 Create your own unique website with customizable templates.